Just a quick reminder that tonight is the first in a run of Colin's solo Edinburgh shows at the Brighton Fringe. Throughout May he'll be doing every chapter from his critically acclaimed 'Carnival of Monsters' trilogy, as well as last years show 'Characthorse' (now a BBC Radio 4 series available on iTunes plug, plug, plug) starting tonight with the original Carnival Of Monsters. Shriek at the Monster and his hunger for friends, Gasp at the skills of Karate and transformer addict Len Parker and feast your eyes and ears on the rest of the freaks, creeps and ghouls on display.
Tickets are available from the Brighton Fringe website here but I urge you to get them whilst you can as they are in strictly limited supply. The rest of Colin's dates at the festival are listed below, hope to see you there cybercreeps.
11th – Mega Carnival Gig with Guests
14th – Enemy of the World
15th – Inferno
23rd – Characthorse
25th – Work in Progress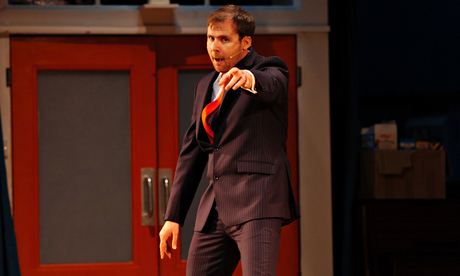 Tonight sees Colin appear in the final performance of Mark Davies Markham's play Special Measures at the Liverpool Royal Court Theatre. Colin starred as a villainous Tory MP sent to visit a primary school in special measures much to the dismay of it's overworked and underpaid staff. The play has received much acclaim during it's month long run, being described by The Guardian as 'Fiercely Funny' and many reviews picking out Colin's performance in particular for praise. Here's a small selection of what the press had to say:
'the star turn comes from an unlikely quarter – Colin Hoult, who is a wonderful, guilty pleasure as the ghastly, smooth-talking, plot-hatching, bile-spewing politician… a pitch-perfect performance that has you wriggling in both delight and disgust.'
- Liverpool Echo
'Colin Hoult's scary career politician is a truly spectacular comic creation – a smarmy stage villain in a Savile Row suit who spouts toxic one-liners guaranteed to get Liverpool audiences booing on cue.'
- The Stage
'A strong and confident cast which lead to solid performances all round. Hoult's Tory MP Thomas makes a particular impression on the audience with his over the top and utterly despicable manner and language. He plays him with just enough conceit and smarminess that make the themes of the play more striking.'
- What's On Stage
In May, throughout the Brighton Fringe Festival, Colin will be performing the entire hit Edinburgh show trilogy 'Carnival of Monsters', 'Enemy of the World' and last year's 'Characthorse', as well as a brand new show. As well as the trilogy he will doing a one off Carnival Mega Gig featuring special guests plus the usual mix of song, sketches, stories and grotesques, only more so.
The dates are:
5th – Carnival of Monsters
11th – Mega Carnival Gig with Guests
14th – Enemy of the World
15th – Inferno
23rd – Characthorse
25th – Work in Progress
Further details and ticketing information can be found here on the Brighton Fringe website.
Hello

Here are some fun new things what is coming up and that

Colin Hoult's Carnival of Monsters – The Radio 4 Series

This beauty is being recorded at the Drill Hall on 5th April (with Dan Snelgrove and Zoe Gardner) and 8th May (with Zoe and Damien Moloney of Being Human super fame).

Tickets have all been booked up I'm afraid but the shows will be airing in early July.  Theme wise its a direct follow on from my Edinburgh Shows which some of you may have seen and so  it'll include the vast majority of my old characters and sketches plus  plenty of new goodies and guffaws. (Still trying to make Eddie St Germaine Cartestian work for radio – determined to get him in somehow!)

More!

Big news – I will be taking two whole shows up to the Edinburgh Festival

Characthorse – which will be a very silly, very funny and surprisingly not dark (we'll see about that) romp about through the hay with a bunch of new characters, jokes (!) and some full on physical theatre. (sort of).

and

Real Horror Show – the show I've been experimenting and playing around with for ages will finally get a proper run with an ace to be announced cast of actors and comedians. This'll be different to all previous versions (which were always meant to be works in progress) and will be a much more theatrical type show than previous.

Obviously as Edinburgh is still being all confirmed up, can't give any details as of yet but will do soon as its on sale.

They'll be loads of previews and gigs in the meantime. Have a look at 'shows' on the website and I will try to actually update them this time.

Characthorse will be previewing at Mach Fest

http://machcomedyfest.co.uk/accomodation

and the sort of sneak preview premiere will be at the Udderbelly on the South Bank in June

http://www.southbankcentre.co.uk/whatson/colin-hoult-characthorse-72382

And finally…

This Saturday I will be popping up in the Life's Too Short Special;

http://www.bbc.co.uk/mediacentre/latestnews/2013/lifes-too-short-vid.html

Which I have seen and I have to say is pretty bloody ace.
Colin Hoult joins the regular cast in the new series of critically acclaimed BBC3 drama, Being Human.
The fifth series begins on 3rd February 2013 at 10pm on BBC3.
Check out the BBC3 Being Human web page for more information: www.bbc.co.uk/programmes/b00hqlc4
Click here to view the trailer